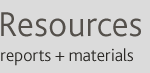 In addition to industry-
specific data / insights, the pods to the right illustrate the range of full-spectrum materials we'll feature.
Sustainable Behavior was created to offer communication and engagement advice to a range of stakeholders. And Baby Steps to Giant Leaps is one of our first papers designed for general audiences.
Baby Steps to Giant Leaps
This paper illustrates the stages we all go through before understanding that sustainability means so much more than green—and how we can all work smarter to elevate the Three Dimensions.
Intended audiences: The general public and 'green enthusiasts'
Sustainable Behavior
This report summarizes the dominant moral reasoning theories and offers better approaches for promoting success to businesses, NGOs, and public agencies.
Developing quality resources
To generate resources that inform Australian business managers and the public, we cooperate with the following projects and organizations:
Sustainability Curriculum Consortium
...............................
If you know of some useful research or materials, please recommend them.