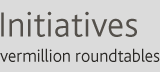 Multi-stakeholder roundtables arrive at solutions that are more generally accepted – and less vulnerable to external criticism – than special-interest proposals. The world needs more ideas that unite stakeholders.
That's why Vermillion is convening a series of safe and constructive roundtables to help businesses, citizens, researchers, NGOs and policy makers to work together instead of apart. This will enable them to pool their efforts and find answers to questions that matter to people.
If you see any fits between your objectives and ours, we invite you to discover how Vermillion research led to this program, and what you can do to help us foster cooperation. Please contact us to learn more.
Engaging with Leaders
Vermillion industry forums will continue to engage with experts to identify the latest examples of what's working.
Learn more
Getting specific
The second phase of the Innovators in Sustainability project involves a series of these roundtables.
Regional Roundtables
Vermillion Australia is a key
player in a larger community. Targeted roundtables are also being convened through: